Special Guests
Main Content
Adrian Paul - With over 30 films and 200 hours of television experience, versatility, discipline and a solid work ethic have been the underpinnings of Adrian's very successful 30 year acting career. Born and raised in London, England, he is internationally recognized for his role as Duncan Macleod, in "Highlander: The Series." Since his arrival in the United States in 1984, Adrian has been consistently busy with acting projects (on both the big and small screens) in a variety of genres. He has also produced and directed both film and television projects and launched two production companies.
In addition to his many entertainment projects, Adrian has spearheaded The Peace Fund, the charity that he founded in 1997. Peace stands for Protect. Educate. Aid. Children. Everywhere. Over the years, Adrian has overseen the work of the fund in countries such as Romania, Bellarus, Niger, Hungary, Haiti, Cambodia, Thailand and the United States. In 2012, Adrian launched Peace Fund Radio that he co-hosts with Ethan Dettanmaeir, with an estimated audience of between 1.8 and 2 million listeners a month.
Adrian has also launched "The Sword Experience," which features half-day seminars of sword training that include stage and real life combat and safety tips aimed at individuals, corporations, film, stage, re-enactment societies, martial artists and role playing groups.
---
Tracee Lee Cocco is an actress, model and stuntwoman who worked on Star Trek: The Next Generation, Star Trek: Deep Space Nine, and Star Trek: Voyager. She was most visibly seen as Lieutenant Jae, a regular background character on The Next Generation, between the fourth and seventh season. She was one of the background performers who also appeared in the three Next Generation feature films Star Trek Generations, Star Trek: First Contact, and Star Trek: Insurrection. Cocco also worked as stand-in for Alice Krige ("Borg Queen") in Star Trek: First Contact.

In "Descent" she played one of the Borg drones mentally damaged by Lore's experimentation. On Deep Space 9, she could sometimes be seen in alien make-up in Quark's and played several aliens such as an Antican. Cocco was one of several regular background performers from Star Trek: Deep Space Nine and Star Trek: Voyager who participated in the filming of the interactive movie Star Trek: Borg; she is most notably seen as a Starfleet science officer visible in the corridor aboard the USS Cheyenne at the start of the movie. She also appeared as an alien bar character in the 1996 video game Star Trek: Klingon.
---
David J. Peterson has worked as a language creator on numerous television shows and films, including HBO's Game of Thrones, Syfy's Defiance, MTV's Shannara Chronicles, the CW's The 100, NBC's Emerald City, Showtime's Penny Dreadful, and Marvel's Thor: The Dark World. In 2014 he published Living Language Dothraki, the best-selling guide to the Dothraki language from HBO's Game of Thrones. In the fall of 2015 David published his nonfiction work The Art of Language Invention with Penguin Books.
---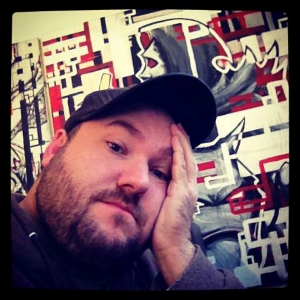 Zac Atkinson is a comic creator, cartoonist and designer. He has worked as a colorist on Bruce Lee the Dragon Rises, Billy Batson and the Magic of Shazam, Justice Society, Young Justice (cartoon adaption), Justice League Unlimited, Teen Titans Go, Legion of Superheroes 31st Century, Transformers, Star Trek, GI Joe, We Will Bury You, Ben 10, Amory Wars, Irredeemable, Farscape...and many others. He's also designed popular t-shirts that's been featured on sites like Ript, Teefury and Once upon a Tee. Zac is currently working on his creator owned comic out of his studio in Decatur, Illinois.
---
Before settling down to write fantasy novels, Josiah Bancroft was a poet, college instructor, rock musician, and aspiring comic book artist. When he is not writing, he enjoys recording the Crit Faced podcast with his authorial friends, drawing the world of the Tower, and cooking dinner without a recipe.
---
Cullen Bunn is a writer of short fiction and novels, but is probably known best for his work in the comic book industry. He began his comic writing career with Damned for Oni Press in 2007 and has produced work for Archie (Blossoms 666), Dark Horse (Harrow County, Manor Black), DC (Lobo, Sinestro), and Marvel (Uncanny X-Men, X-Men Blue, Venom, Deadpool) in the years following.
---
Brent Chumley is a graduate of Southern Illinois University at Edwardsville and has produced art for a multitude of media including cover paintings, interior illustrations, collectible card art, cartography (maps), graphic design, page layout, t-shirt designs, miniatures paintings, concept art and commercial photography for a plethora of clients. Some of the gaming brands Brent has produced work for include: Dungeons & Dragons, D&D Dragonfire, Shadowrun, Legend of the Five Rings (CCG and RPG), Doomtown: Reloaded CCG, Metal Magic & Lore, The Vampire's Codex, Bruce Heard's Calidar fantasy campaign setting as well as his own Dragonverses® line of art. Brent lives in southern mid-Illinois and is available for commissions. 
---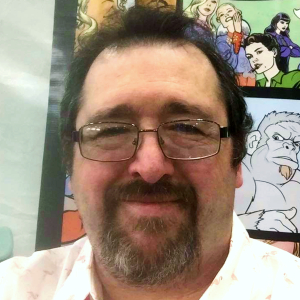 Sean Dulaney is an writer/artist/editor and broadcaster from Southern Illinois. In the comics field, his work includes 51 Delta (Arcana Studios), the "IT" Girl Murders (Markosia), F. Stein, Consulting Detective, Dreah, Queen Of Thieves And The Recent Kickstarter Funded Miss Vicky & Her Cutie Commandos. As an editor, he has overseen the revived Fantastic Adventures title which mixes reprint material from the Ace Comics archives with new material related to the issues' themes. In recent years, Sean has spearheaded the annual radio show recreation during Metropolis, IL's Superman Celebration. 
---
Cathy Jackson is a Midwestern Christian mother of three teenagers and a precocious eleven-year-old. Reading is a passion of hers, but she adores writing. It is Cathy's goal as an author to write scenes that uplift and encourage along with making one feel the experience. She wants readers to finish the books feeling hope, love, and happiness. To date, the books she has published are inspirational (Christian) romances, but they have a contemporary romance feel to them. 
---
Camron Johnson is an illustrator whose work can be seen in comics, novels and children's books. Credits include creator-owned titles like Thy Neighbor and Bonecheck, as well as cover design for the acclaimed horror series- Rabbit in Red by Joe Chianakas. Titles for young readers include Light the Night by author Zach Williams and I've Lost My Special Power! by author Molly Whalen.
---
The Midwest Garrison is the Illinois chapter of The 501st Legion, a Star Wars Imperial costuming club. The 501st is dedicated to the movie-quality costumes of the "villains" of the Star Wars universe. The MWG provides a means for Star Wars fans to meet and network with each other to engage in the hobby of building and improving Imperial costumes from the Star Wars movies. All of our costumes are scratch-built or "fan-made," whether through the arduous process of building molds and vacuum-forming, or assembling costumes from found objects.
---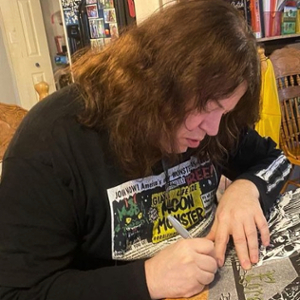 Brad Moore is a dedicated surrealist painter, who creates artwork for underground, heavy metal, and alternative record companies. Perhaps his most brilliant feat, however, was, on the day of his birth, to be delivered by none other than Dr. Chas. Cavaness, the man who brutally murdered his two sons, and the book; "Murder in Little Egypt" tells the tale. That book leaves out all the details featuring Brad Moore, however, and his years as a horror/gore comic book artist, his trials and tribulations with designs and art for film, and his now current employment as an illustrator for the heavy metal/psychedelic recording industry. When asked what he considers his greatest achievement, Moore often cites the exhibit he did, in 2006, with none other than H.R.Giger, the Swiss Surrealist who created the Xenomorph horrors for the ALIEN film series. That Exhibit was held in Switzerland, at Giger's own castle, and is now a matter of record. To date, Brad Moore's work has been published, world-wide, over 500 times, and he sees absolutely no end to this ghastly adventure into his own mind, delving into arcane worlds of highly eccentric artistry. 
---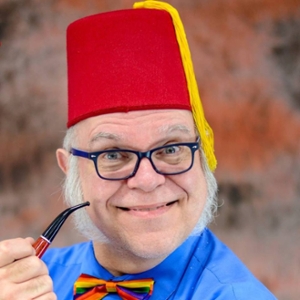 Brian K. Morris is an independent publisher with his Rising Tide Publications imprint, freelance writer, novelist, "award winning" playwright, actor, editor-in-chief for Silver Phoenix Entertainment, and former morticians assistant. A frequent convention guest, Brian's newest releases include WAITING FOR THE SPACE GODS, THE HAUNTING SCRIPTS OF BACHELORS GROVE and VULCANA: THE PROMETHEUS COVER-UP. He lives in Central Indiana with his wife, no children, no pets, and too many comic books. His blog can be found at risingtide.pub.
---
St. Louis R2 Builders Group - Southern Illinois University alumnus (class of 2004), James Chaklos, is a local R2-D2 builder and a member of the non-profit, St. Louis R2 Builders Group. James works to promote his love for science and "Star Wars" by taking his hand-built R2-D2 model to local schools, hospitals, and other charity events in the Southern Illinois Region. Visit his booth for a special surprise this year – a half-sized BB-8 Model.
---
Lucy A. Snyder is the Shirley Jackson Award-nominated and five-time Bram Stoker Award-winning author of over 100 published short stories. Her most recent books are the collection Garden of Eldritch Delights and the forthcoming novel The Girl With the Star-Stained Soul. She also wrote the novels Spellbent, Shotgun Sorceress, and Switchblade Goddess, the nonfiction book Shooting Yourself in the Head for Fun and Profit: A Writer's Survival Guide, and the collections While the Black Stars Burn, Soft Apocalypses, Orchid Carousals, Sparks and Shadows, Chimeric Machines, and Installing Linux on a Dead Badger. Her writing has been translated into French, Russian, Italian, Spanish, Czech, and Japanese editions and has appeared in publications such as Asimov's Science Fiction, Apex Magazine, Nightmare Magazine, Pseudopod, Strange Horizons, and Best Horror of the Year. She lives in Columbus, Ohio and is faculty in Seton Hill University's MFA program in Writing Popular Fiction. 
---
Jimmy Z is a comic book writer for such titles as The Tick, Micronauts, Warlock 5, and Subspecies.