Main Content
Back by popular demand, Saluki Con returned to the campus of Southern Illinois University on Saturday, Sept. 28 and Sunday, Sept. 29, 2019 at the SIU Student Center in Carbondale, IL.This was the third consecutive year we have held this event, which originally began as Eclipse Con. 
We have been growing this event each year, but you can expect the SIU Student Center to be bustling with activity that will feature special regional and celebrity guests, a wide array of vendors, artists, children's activities, table top gaming demonstrations and tournaments, a costume contest, and other special events that will certainly make this one for the memory books.
Please like and follow us on our Facebook page for all the latest updates!
Want a closer look? Volunteer today!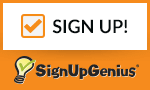 Whether you're looking for ways to log volunteer hours, or just curious to see how a regional Con actually comes together behind-the-scenes, SIU enthusiastically welcomes students, faculty or staff interested in assisting with Saluki Con.
With a variety of areas and shifts to choose among, we hope you'll check out SignUpGenius to learn how you (or even a group of your friends/colleagues) can become a part of our next Saluki Con event.
Program Schedule